Washable, Reusable Cotton Face Mask - Made in USA (non-medical grade)
In light of new evidence, the CDC is now recommending everyone should wear cloth face masks in public outings to help reduce the spread of COV-19. Additionally, the CDC is advising the Read more
Customer Reviews
09/02/2020
Invest I.
United States
Great Black mask…bought 3
I went back to the store & bought another black mask 3 times. Each time someone saw the mask they liked it & I bought 1 for them. Great mask, but hard to breath at times. Perhaps make the same black mask maybe a tiny bit thinner…and keep the prices the same.Thanks Dr Nassif!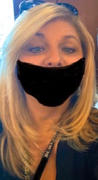 08/02/2020
Mary M.
United States
Made in the USA
We like these masks. My face is smaller than my husbands, so I tie a little knot in the ear loop and they work great for me also. I love that they are made in the USA. Most masks are made in China.
07/04/2020
LAURA W.
United States
Excellent Quality masks
Good quality masks and fast service! Will order again from Dr Nassif again!!
07/03/2020
Dabney C.
United States
Best Masks
Dr. Nassif's masks are the only ones we use. They fit great and are so comfortable!
06/02/2020
Joyce E.
United States
Thank you!
I really appreciated face masks offered for purchase at a reasonable price.